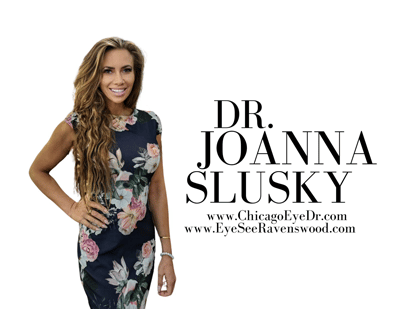 Dr. Joanna Slusky, OD is excited to offer the most state-of-the-art, patient-centered vision care. Her patients rave about her personalized approach to medicine, patience, friendliness, and ability to improve their vision to a level of clarity and comfort they didn't know was possible.
She asks every patient "How can I improve your life?" and means it. Dr. Slusky doesn't settle for anything less than excellence when it comes to her patients' visual clarity and eye comfort. She makes sure every one of her patients has the best solution for them personally—whether they look in the distance at a road for most of the day or spend a lot of time looking at screens.
Dr. Slusky believes that educating people about their eye health is just as important as treating and correcting their vision. Unlike many providers, she takes the time to properly educate her patients about their eye health and any current conditions they may have. She tells her patients what she sees so that if they visit another provider they know what's going on, and she explains the same things to children so that they understand their eye health, know how to prevent sun damage, and learn the importance of getting annual exams from an early age.
One part of her job that she loves the most is seeing children. Witnessing their faces when they see clearly for the first time and hearing about them excelling in school after their vision is corrected are some of the most rewarding parts of her job.
Rather than jump to prescribing medicines, Dr. Slusky takes a holistic approach to medicine and instead helps her patients achieve the clearest, most comfortable vision with the most appropriate resources available—whether that means switching to more permeable contacts or simply ensuring their glasses fit their face perfectly.
If you need vision care, and you want a doctor who is truly passionate about what they do and will make sure you have nothing less than an excellent experience: make an appointment with Eye See Ravenswood.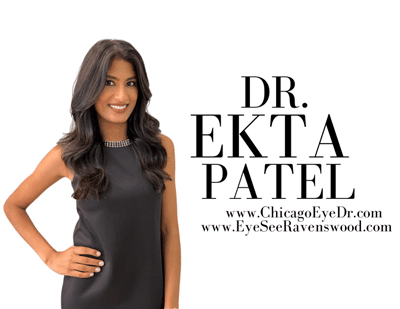 Dr. Ekta Patel is originally from Bettendorf, Iowa and graduated with a Bachelor of Science degree in Biology and minor in Psychology from Loyola University Chicago. She continued her education at Rush University in Chicago, IL for her Master of Science in Biotechnology. She then began her optometric education at the Chicago College of Optometry.
She specializes in primary care and ocular disease, as well as the management of Dry Eye Disease. She has the passion and determination to stay updated on all of the new cutting-edge technology in the field of optometry for her patients. While in school, Dr. Patel gained extensive training in ocular disease, as well as worked alongside some of the top Cornea specialists in Illinois. She is kind, compassionate, and will be sure to go above and beyond for her patients.
In her free time, she is an avid volleyball player, loves a good yoga class, and is always looking for a new hike to go on. If she's not in the office she's planning her next adventure. If you have any travel suggestions, please let her know! Dr. Patel currently lives in the West Loop area and loves exploring restaurants and hidden gems of Chicago!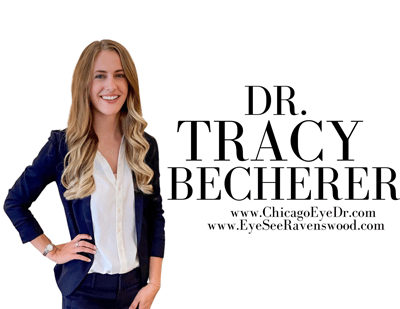 Dr. Tracy Becherer is originally from Arlington Heights, Illinois and graduated with a Bachelor of Science degree in Kinesiology from Miami University of Ohio. She began her optometric education at Illinois College of Optometry in Chicago and graduated as a member of the Gold Key International Optometric Honor Society with clinical honors. While in school, Dr. Becherer gained extensive training in dry eye and cornea clinic, and enjoys using the latest advances in eye care technology to help treat Dry Eye Disease. She also has a passion for vision therapy, and was on the executive board of three organizations that specialize in neuro-optometry and vision therapy. She worked closely with highly skilled Optometrists and vision therapists during her clinical externship rotation in San Diego, where she fell in love with treating binocular vision dysfunctions, and appreciates the real-world impact vision therapy has for patients of all ages.
If you're not seeing Dr. Becherer in the office, you'll likely find her exploring local antique malls or thrift shops searching for vintage glass. She collects vintage swung vases, and loves antiquing with her family! She also plays tennis, and on nice days you can find her on the tennis courts with friends. Dr. Becherer resides in the Lincoln Park area with her boyfriend, and loves exploring all the Chicago neighborhoods, and trying new restaurants.
Dr. Becherer looks forward to providing high quality vision care to the greater Chicagoland area, while also developing strong relationships with all patients, parents, educators, and other healthcare providers.